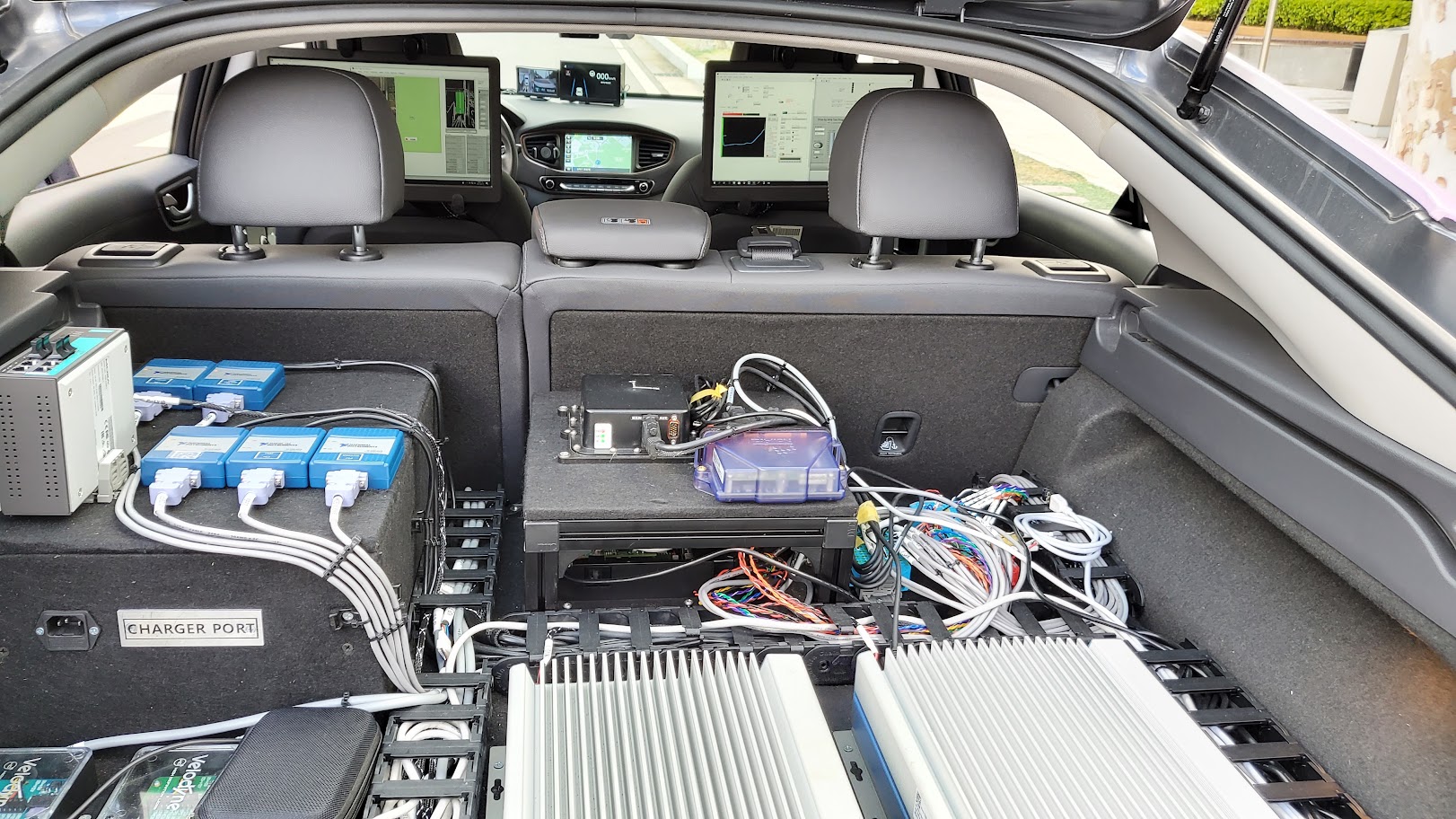 AVP Control – Outdoor Driving Technology
Blue Intelligence has ACC, AEB, Lane Change, and AVP technology.
Adoptive Cruise Control (ACC)
Section : Straight and Curved section of roads with both lanes
State : Automatically adjusts the vehicle speed to maintain a safe distance from vehicles ahead. Comfortable and relaxed driving, even in heavy traffic jam
Sensor : Camera , GPS, Radar, LiDar
Automatic Emergency Braking (AEB)
Section : Straight and Curved section of roads with both lanes
Target Speed : Speed under 100 kph
Sensor : GPS, Radar, LiDar
Automatic Lane Change / Blind Spot Detection
Section : Straight and Curved section of roads with both lanes
State : Automatically take the correct freeway exit or interchange based on the route entered into the navigation system. Also, detects other vehicles located to the driver's side and rear.
Sensor : GPS, Radar
[Blue Intelligence] Line Tracing Unmanned Parking
AVP Control – Indoor Driving Technology
Light Guidance System
Blue Intelligence provides Autonomous Valet Parking service at indoor parking lot without GPS. This causes Autonomous Driving Era One step ear
Intelligence Infrastructure as A Guidance for all existing cars In present
Blue Intelligence has been developed intelligent parking lot infrastructure system for reducing parking stress which guides the car to right-spot to park using Blue Intelligence's service. This is one of Blue Intelligence's Short-Term implementation model to reach new customers segment.
This is New complementary service , means that the development team has unique composition of idea for mobility service even now. Aim to being a Leader of mobility service is one of Blue Intelligence philosophy.
LED Light guides the cars from entrance of parking lot to empty parking space in Big mart or shopping mall. No parking attendances are needed. Blue Intelligence's Light-Guidance System guides the cars with algorithm technology.
AVP Control – Indoor Driving Technology
LiDar is applied on Blue Intelligence's AVP system currently.
However, AVP system of Blue Intelligence's will be implemented with only 'Vision AI Technology' in AVM.
Required Sensor systems for AVP
Detect the current position of vehicle in real-time
Not Required for Blue Intelligence
Detect obstacles in front & rear of vehicle. Long range recognition
Not Required for Blue Intelligence
Sensors to detect obstacles and pedestrians around the vehicle, front, rear and left and right covers
Currently Applied for Blue Intelligence
Intuitive recognition of forward information
Not Required for Blue Intelligence
AVM (Around View Monitor)
Detect parking-guidance line and parking lane

Developing 'Vision AI Technology' The final goal of Blue Intelligence : AVP system with VISION AI Technology
Indoor AVP control system requires APM for Lateral control by signaling to MDPS, ASM for control accelerator by signaling to accelerator position sensor, ASM for control speed-reduction by signaling to brake actuator, AGM for Transmission control by signaling on TCU,VCU for Control of integration module for APM,ASM and AGM and Controller (EAS) for detect the current position of vehicle in real-time.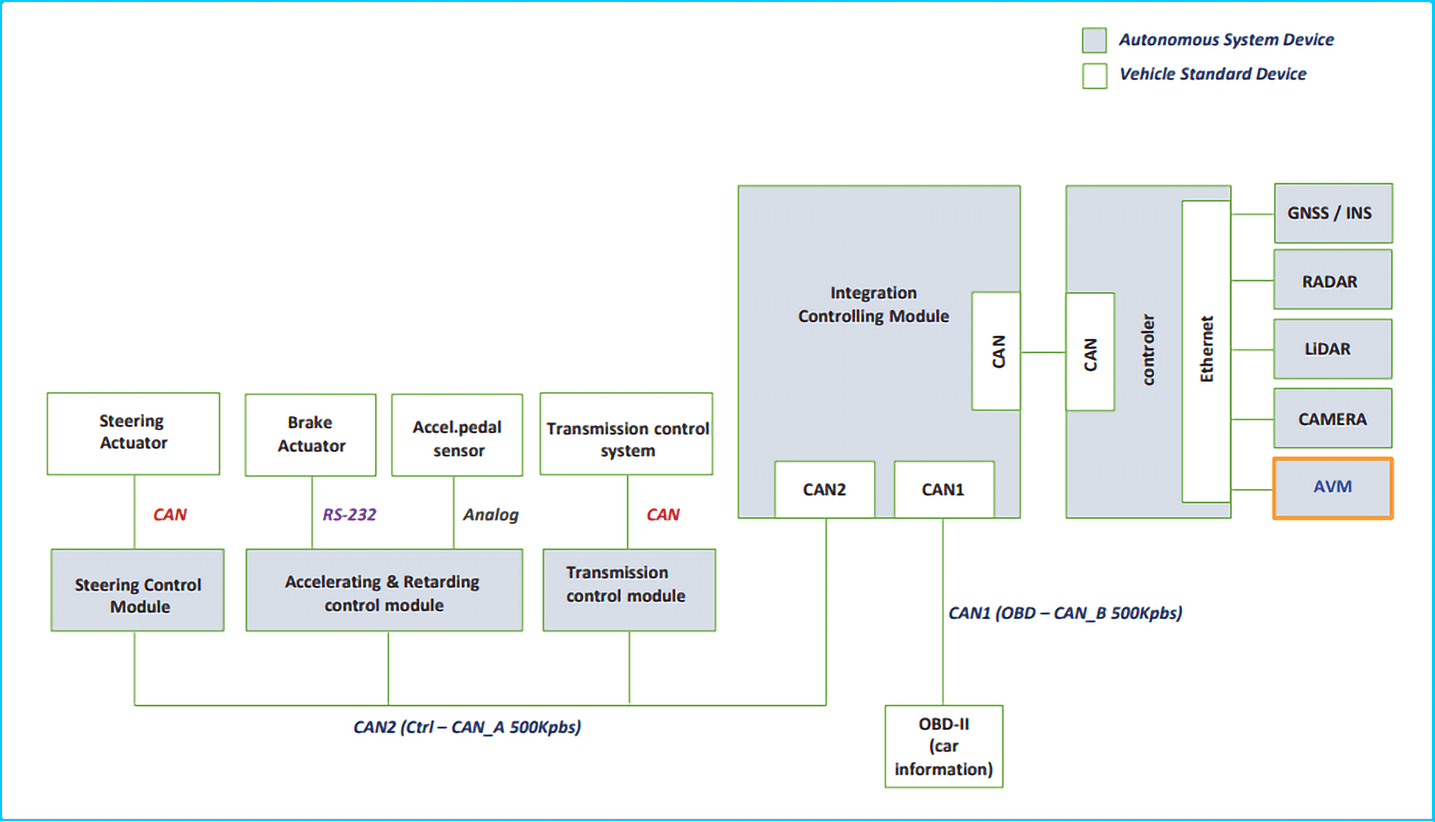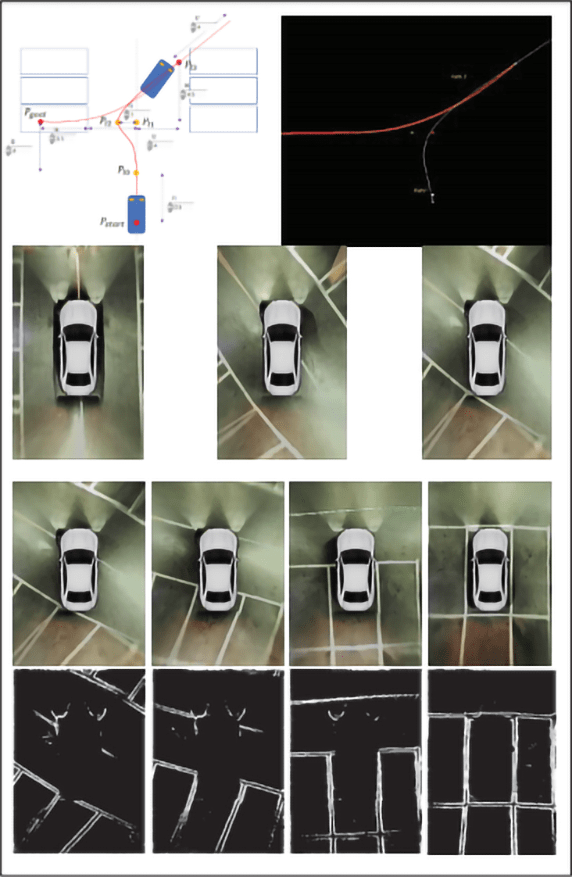 Indoor AVP Sequence Action
Step 1. Searching Parking space
Parking lot Map Building
Generate Parking lot map for AVP
Assignment ID by individual parking zone
Control of LED light through identification of parking zone ID
Step 2. Generating for Line detection & Steering angle
AVM(Around View Monitoring) LED Line Tracking
Classification of LED color through AVM image process
(ex. green : run , red : stop)
Detection of driving color LED line and speed and steering angle
Move to allocated parking area with LED line tracking
Generating car location initialization after arrival of allocated parking zone
Step 3. Dead Reckoning & Motion Planning
Dead Reckoning & Motion Planning
Transfer control issue to Motion tracker after initialization of vehicle position
Conform of Local Position through massage initialization
Generate forward & reverse travel routes
Path Tracking using Dead Reckoning
Generate of Order for Stop & Change speed
Transfer control issue to Line tracker after confirming of rear path tracking and entering parking area
Step 4. Detection of lane of Parking area
End Point Parking
Confirming of transfer control issue to Line Tracker
Parking line detection with rear AVM image processing
Creation of Stop order/ Switching gear position and steering angle
Transfer completing of parking signal
[Blue Intelligence] End Parking Solution AVM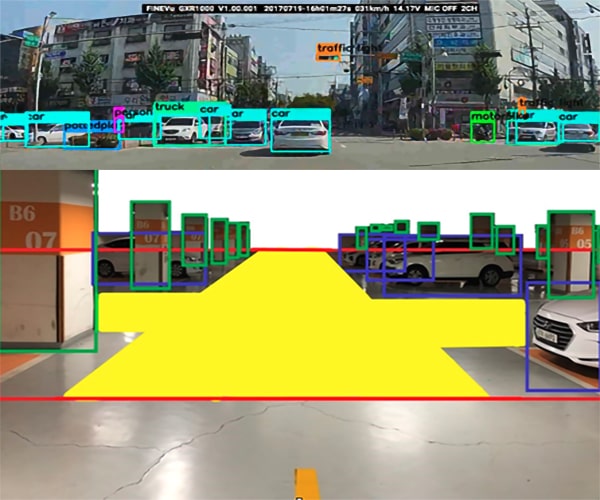 AI Technology
Recognizing objects and people inside parking lot and planning safest path to parking space to prevent accident. Also, the technology provides AVP training & Vehicle positioning in Non-GPS environment.
3D Space Recognition & Tracking
Driving Vehicle can recognize the road inside parking lot through Spatial Temporal Knowledge
Automated Vehicle Control based on Deep Neural Network
To control self-driving car via modelling of Deep Neural Network
Parking Motion Planning
Vehicle can do 'Motion Planning' to park itself to empty space in an effective way and keeps learning the way by itself
AI Puzzling Net
Most of the parking lots consist of the below 8 pieces of puzzle
Blue Intelligence enables vehicle park itself by all combinations of the below puzzles through Deep Neural Network. (Patent applied)
Seamless Tracing Net
Even though the recognized object disappears for a moment, vehicle can continuously trace it by calculating its projected course with the technology of Blue Intelligence
V-Masking Technology
Vehicle does not need to have GPU process. V-Masking of Blue Intelligence enables vehicle to recognize parking line, road in parking lot at high speed.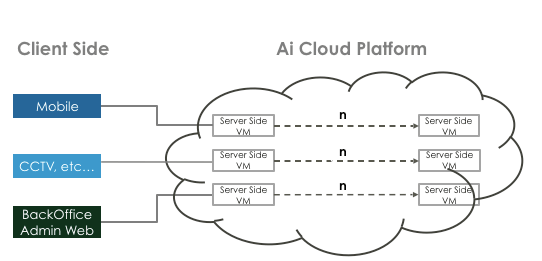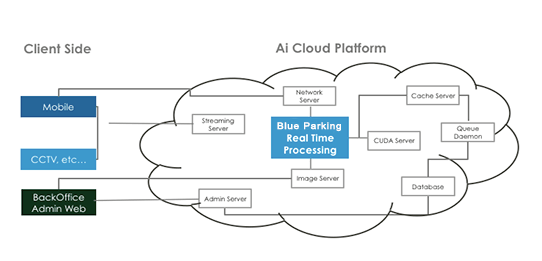 Control & Network Technology
The team is developing control algorithm to park several vehicles safely all at once and making path after analyzing surrounding information where people and objects coexist as well. Blue Intelligence delivers V2X, I2I network technologies.
Architecture
Real-Time Object Detection using Cloud platform on product level
Real-Time Object Recognition
Real-Time Object Detection Architecture
Indoor Positioning Technology with Node Edge Map

Blue Intelligence Path planning Algorithm development team puts together management and control system technologies. Team needs to include sensor technology with IT technology to calculate the driving maneuver as well as cloud connection to communicate with cars.
Securing of Indoor Positioning technology with GPS or without GPS. The needed technologies such as sensors, dead reckoning, camera, telecommunicate are obtained by Blue Intelligence based positioning, dead reckoning, Map Matching technology.
Different type of map is needed for underground parking lot The current detailed map for self-driving system costs great deal of time and expenses. Blue Intelligence implements automated parking with Node Edge Map easily made.
Blue Intelligence's digital mapping technology called Node-Edge Map brings the complete map implementation within three hours (100M* 100M)
AI Camera Technology
Competitors' Camera - Specification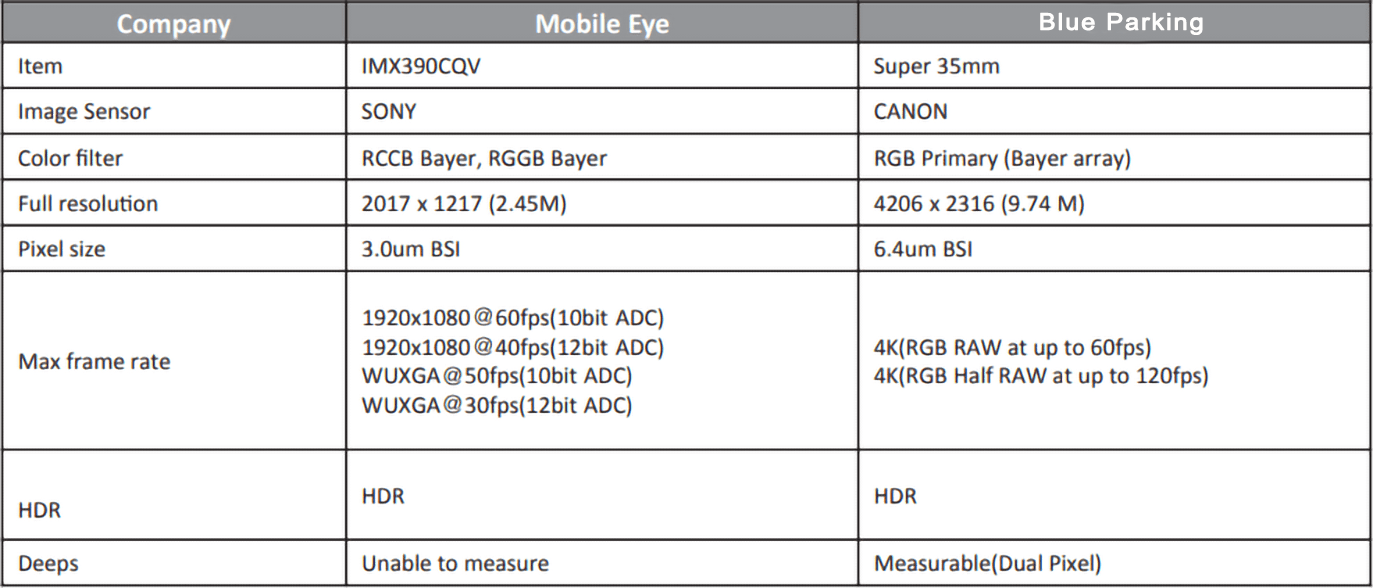 [Blue Intelligence] High Speed Autonomous Driving
[Blue Intelligence] Autonomous Drive Road